Are you a Partnerships Manager looking to join a fast-growing tech company?
Read on. 👇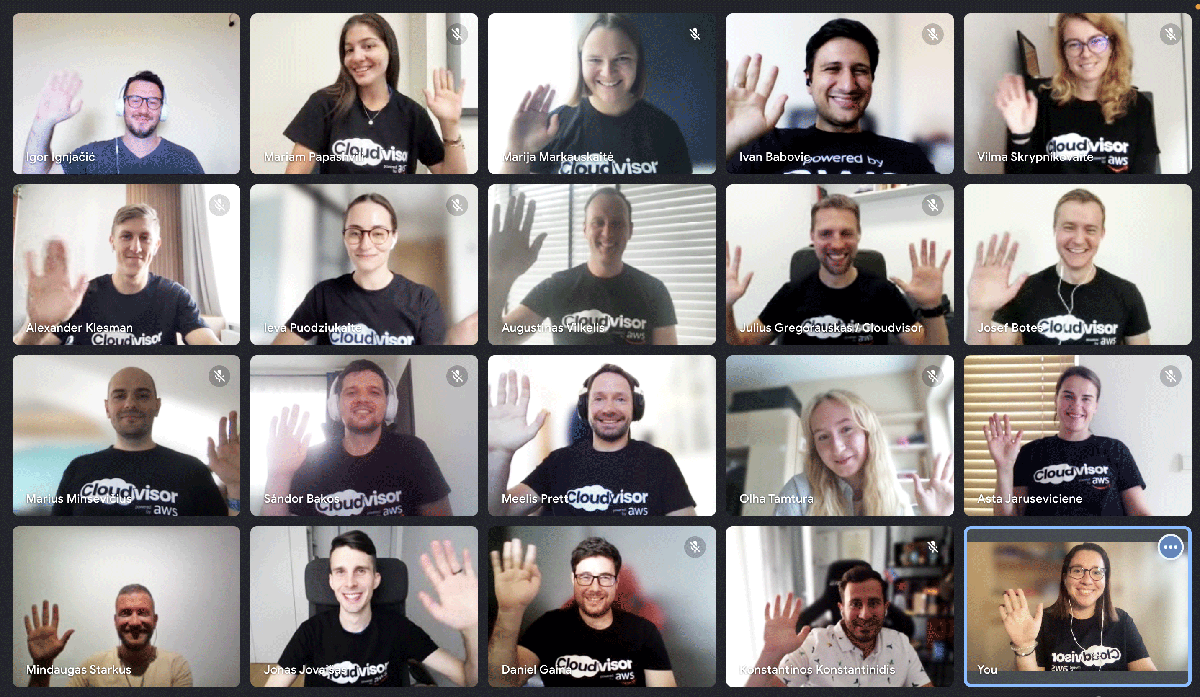 HI, THIS IS US!
Team of Cloudvisorians
We're an Advanced Tier AWS Partner operating in Europe, the US, and beyond 🚀. Everyone here lives and breathes AWS, it's the main and only thing we do. Our mission is to help startups scale with Amazon Web Services (AWS). One half of our DNA is AWS, the other is startups.
Oh, and we're a fully remote company. 💪
Right now, we're looking for a Partnerships Manager to join our team and help us grow at an even greater speed!
Curious? Read on. 👇
RESPONSIBILITIES
What will you do
The goal of a Partnerships Manager is to become best friends with people working at AWS. It involves building and nurturing long-lasting relationships with them by finding areas of mutual benefit. The expected outcome is a steady flow of leads from AWS related to cloud engineering services. No prior cloud or AWS related experience is required for this role.
You will:
Constantly grow your contact base inside AWS and pitch Cloudvisor to them;
Maintain and nurture existing relationships through regular calls with AWS people, visiting AWS offices all across Europe, and attending events like startup or cloud-related conferences.
Distribute the leads arriving from the AWS side to the relevant sales managers within Cloudvisor.
Provide regular feedback to AWS folk regarding the status of the leads.
Unearth new opportunities and identify more ways our partnership with AWS can be even stronger and more productive.
REQUIREMENTS
What we expect you to have
3+ years of relevant experience in partnership or account management within the B2B market (startup environment is a plus).
Strong communication and presentation skills via various formats.
Excellent written and spoken English language skills.
Ability to take full ownership of the process and results within your area of responsibility.
REWARD
What we can offer
A competitive salary (3000-4000 EUR gross)
An awesome and international team to work with 0 (zero) micro-management. Yes, the best team you have ever seen.
Regular, remote team lunches + offline team and company retreats
Exciting challenges and learning opportunities
Remote work (Cloudvisor is a fully remote company), flexible working hours and conditions
Possibilities to test new ideas and strategies, succeed (or fail, this is also an essential part of the process), learn from that, and grow together with the company.
Awesome perks - unlimited time off, allowance for your workspace, well-being, etc.
Cool products, customers, and partners to work with!
Why us?
Cloudvisor = people. We believe your personality and soft skills are more important than just several hard competencies.


Cloudvisor = growth. We take on the challenges ahead and keep up with an ever-changing environment, becoming the best professional version of ourselves with no hidden agenda.


Cloudvisor = culture. We are partners. We believe that working together should not be limited to the actual work! We care about all of you, your background, what makes you tick, your reality, and your diversity!


Cloudvisor = startup. We live in a fast-developing world and are making our way into it. You will find a result-driven space where you can develop your best ideas.

Do you think you are the perfect fit for our team? We have discovered our ideal profile – we call it a true Cloudvisorian!
Are we a match?
Can you identify yourself as a true Cloudvisorian?
Are you a person who enjoys challenges and doesn't mind failure or when things go wrong?
Do you like learning and are you willing to continuously improve yourself?
If you answered YES 3 times, then we would like to hear from you! 👇
Tell us a bit more about yourself