Are you a Lead Security Engineer looking to join a fast-growing tech company?
Read on. 👇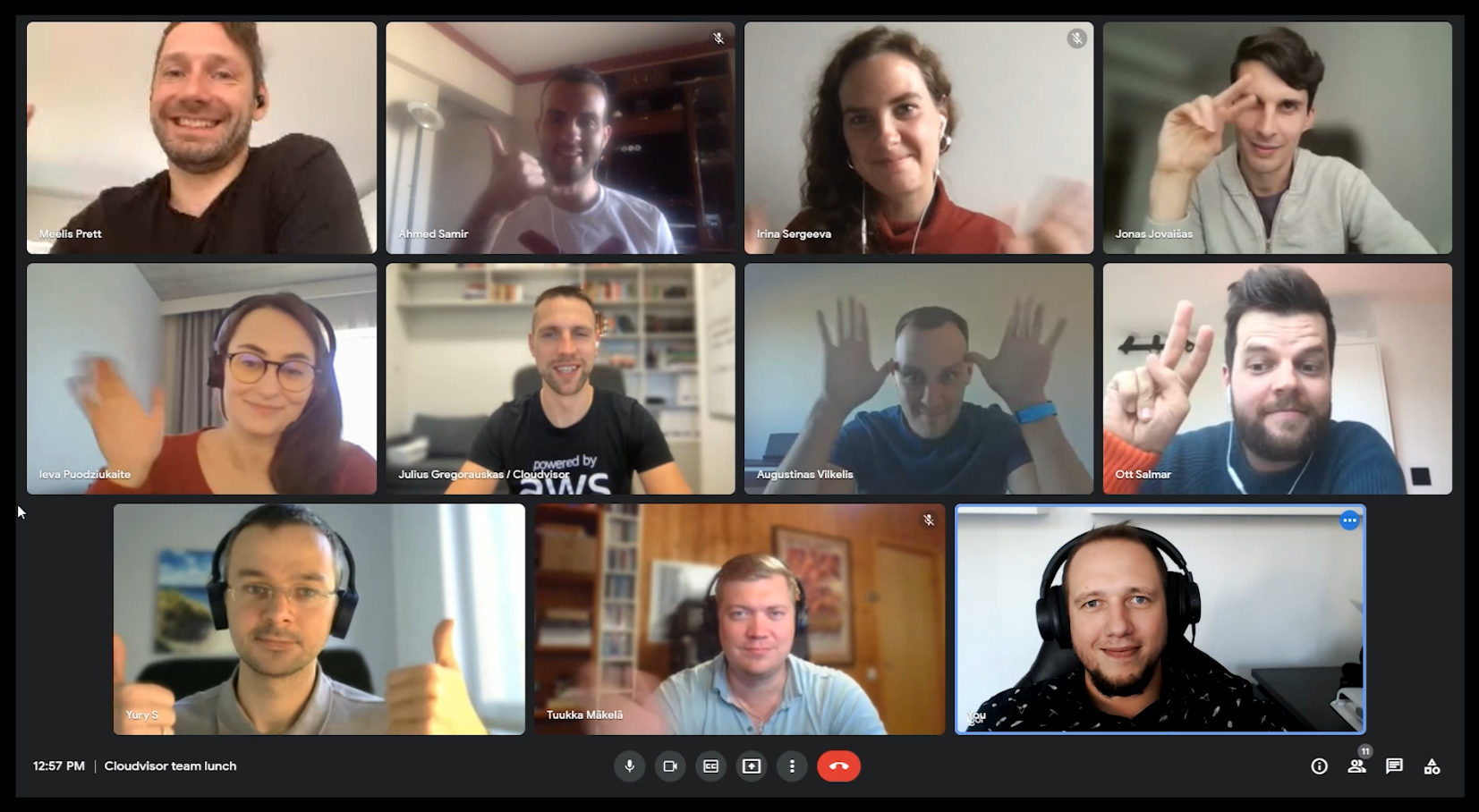 HI, THIS IS US!
Team of Cloudvisor
We're an Advanced Tier AWS Partner operating in the Baltics and Nordics. Our constantly-growing company works closely with AWS to support current and new AWS users in our region. We are working with new technologies, and our task is to ensure that our customers are getting the best out of AWS services.
Oh, and we're a fully remote company. 💪
Right now, we're looking for a Lead Security Engineer to join our team and help us grow at an even greater speed! We seek team members who care about results and are not afraid of taking ownership. These values, applied collectively, help to produce an outstanding Cloudvisor team and culture.
Curious? Read on. 👇
RESPONSIBILITIES
What you will do
You will work a lot at the customer interface: security reviews for customers products and systems.
We are looking for someone who can balance technical risks against business risks and consistently drive for the right results. You must have the passion for applying solutions to complex security challenges, and recognise and fill gaps in capabilities.
You will be responsible for:
Analyzing

the security of applications and services;
Discovering

and addressing security issues;
Building

security automation;
Reacting

to new threat scenarios.
You are also expected to

mentor

more junior engineers and be a security thought

leader

for the organization.
REQUIREMENTS
What we expect
You will be able lead security projects (production or business critical setups), having AWS Certified Advanced Networking – Specialty certificate:
Use AWS native Controls (Such as AWS CloudTrail and Amazon GuardDuty) being extended with ISV tools;
Rely on security best practices, which will include:

Automated deployments
Standardized setup of multiple AWS accounts
Standard for playbook to Incident Response in the cloud
Automated deployments of specific application stacks
Automated deployments of specific third-party security tools
Standardized on-boarding/off-boarding

Propose standardized security tooling recommended to customers to meet their security and compliance needs, including ALL of the following:

AWS Account Security Assessment (Root Credential Storage, S3 Bucket Permissions, IAM Permissions, etc.)
Identity, Access Control, and Federation (Secrets Management, SSO, Privileged User Management, Host/App AuthZ/AuthN)
Web Application Firewall (WAF)
DDoS protection
Firewall and Networking Infrastructure (NGFW, Micro-Segmentation, Security Group Management, Network Analysis/Packet Capture)
Remote Connectivity Infrastructure
Endpoint, Host Security (EDR/EPP) and Container Security
File Integrity Monitoring (FIM)
Intrusion Detection and Prevention (IDS/IPS)
Centralized Logging, Monitoring, and/or SIEM
Proxies and Egress Access
Encryption and Key/Secrets Management of S3, EBS, DynamoDB
Data Loss Prevention (DLP)

Create Architectural diagrams (AWS services used, using the appropriate AWS service icons, how the AWS services are deployed, including virtual private clouds (VPCs), availability zones, subnets, and connections to systems outside of AWS)
Setup appropriate Account Configuration:

The root user is secured
Account contact information is set
AWS CloudTrail is enabled

Ensure Operational excellence:

Metrics are defined for understanding the health of the workload
Workload health metrics are collected and analyzed
Operational enablement
Deployment testing and validation
Code assets are version controlled
Application and workload telemetry

IAM management:

Access requirements are defined
Grant least privileges
Static AWS Access Keys are not used for programmatic access
Unique non-root credentials are used for interactive access

Networking:

Security groups are tightly scoped
Data that traverses the Internet is encrypted in transit
Data stores are in private subnets

IT Operations:

Cryptographic keys are managed securely

API Integration:

Official AWS SDKs are used to call AWS API endpoints

Reliability:

Deployment automation
Availability requirements are defined for the solution
The solution adapts to changes in demand

Cost optimization:

Total cost of ownership (TCO) analysis or cost modeling
Don't worry if you're not a perfect match. You don't need to possess every single qualification listed. We believe the soft skills you display - like friendliness, professionalism, responsiveness, and follow-through - can counter your lack of experience. 😉
REWARD
What we can offer
Competitive fixed compensation package. The exact offer will be based on your knowledge and experience;
Motivating, creative and flexible working environment;
100% remote-first approach with a "work from anywhere" mentality;
Being part of a team compiled only with highly skilled and experienced professionals;
Opportunities (and even requirements) for achieving all kinds of AWS certifications.
Are we a match?
Are you passionate about IT, appreciate the collaboration between motivated colleagues?
Are you a person who enjoys challenges and doesn't mind failure or when things go wrong?
Do you like learning and are you willing to continuously improve yourself?
If you answered YES 3 times, then we would like to hear from you! 👇
Tell us a bit more about yourself